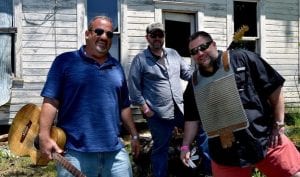 The Arkansas Brothers music has sprouted from the heavy influences of gospel, blues, rockabilly and country, much like the cotton that bursts from the rich Arkansas delta soil they were raised on.
Tim and Jess Hoggard, along with Matt Pierce have been playing music and touring regionally, nationally, and abroad for over two decades. They have shared the stage with such names as: Jimbo Mathis and the Tri-State Coalition (which Pierce is also a member of) Billy Lee Riley, Big Jack Johnson, Mark Sallings, Sonny Burgess, Jim Dandy, Jerry Lee Lewis, Ike Turner, Hubert Sumlin, Lil Howlin Wolf, Willie "Big Eyes" Smith, North Mississippi Allstars, Todd snider, Bernard Allison, Alvin Youngblood Hart, The Black Crowes and Robert Plant to name a few.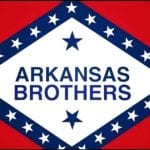 They credit some of their major influences on Muddy Waters, Howling Wolf, James Cotton, Albert Collins and Al Green as well as Telecasters, fine tune amps, BBQ, and redneck soul.
This CD has captured the essence and the flavor of the Delta and it's music. It will make you want to get up and shake a tail feather, or maybe just grab a cold one and kick with your friends.