Rock 'N Roll Highway 67 Museum
The Formative Years of Rock 'N Roll
In 1955, Elvis Presley toured through Jackson County, Arkansas four times. He had yet to be seen by the mass audience which would catapult him to international stardom. He was preceded by at least one generation of musicians who were playing the country, rhythm and blues, and western swing that was featured at nightclubs, juke joints and roadhouses along U.S. 67.
The Rock 'N Roll Highway 67 shot straight through Jackson County and was the main artery through Northeast Arkansas from Little Rock to the Missouri border. A short drive from Memphis, Jackson County was a natural oasis for all musical talent willing to travel for a living. (See our map of the Rock 'N Roll Highway 67 below.)
Museum Visiting Hours
The Rock and Roll Highway 67 Museum is open to the public from 9:00 am to 4:00 pm.
Venues on the Rock 'N Roll Highway 67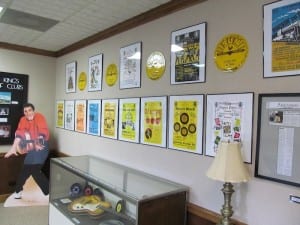 A wet county surrounded by dry ones and nightclub owners with money to pay nurtured the music pioneers who traveled the highway. Venues dotted the road. The most popular ones hosted all the major "Sun" recording artists from 1955 through 1959. Contemporaries of Presley including Johnny Cash, Jerry Lee Lewis, Roy Orbison, Carl Perkins, Conway Twitty, Sonny Burgess, and Billy Lee Riley were just beginning their careers. The clubs along 67 nurtured their talents and gave them greater abilities as performers to carry their music far from the South.
Visiting the Rock 'N Roll Highway 67 Museum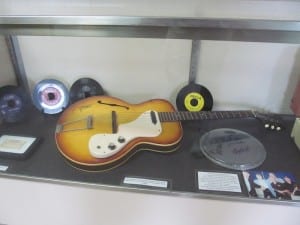 The museum, located at Second and Hazel streets in Downtown Newport, Arkansas, chronicles not only the music greats, but also digs deeper into the local aspects of the popular music progression that occurred at the moment to create the genre we now call Rock and Roll.
Nowhere else will you see the exhibits and read the history gathered here. The history was significant enough to deserve official name recognition and signage ordered by the Governor of Arkansas in 2009. Scores of later rock legends including The Beatles, Bob Dylan, Led Zeppelin, Bruce Springsteen and many more give the music heard on the Rock 'N Roll Highway 67 credit for having inspired their own careers.

Downloadable Map of the Rock 'N Roll Highway 67
If you would like to see the locations of the various venues that were so popular along Highway 67, download our high resolution map (PDF) below: