Vendor Safety Copy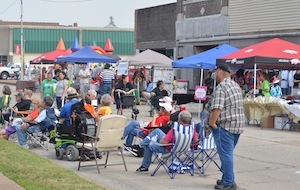 The Newport Area Chamber of Commerce is now accepting vendor applications for the 17th annual Depot Days Festival to be held Saturday, September 27, 2014, on Front Street in downtown Newport. The festival is a showcase of local, regional and national talent paying tribute to the rich musical history of Jackson County for which Rock 'n' Roll Highway 67 was recognized by the Arkansas Legislature and Governor Mike Beebe years ago.
Music, food, vendors, crafts, giveaways from the stage and children's activities will be available for all to enjoy. Admission is FREE to the public!
Vendor applications are due by Friday, September 19.
Booths are $25, and you can download an application here.
For more info, contact the Chamber office at (870) 523-3618 or director@newportarchamber.org.
CLICK HERE FOR BBQ CONTEST REGISTRATION
CLICK HERE FOR BBQ CONTEST RULES
CLICK HERE FOR VENDOR REGISTRATION