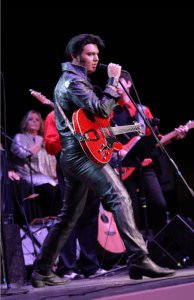 Cody Slaughter has been tagged as one of the most talented, young Elvis Tribute Artist's in the country. Born and raised in Harrison, Arkansas, gateway to the beautiful Ozark Mountains, Cody Slaughter began entertaining at the young age of 13. A true Southern boy, Cody's true passion for Elvis' music and memory has directed his career path.
Cody has performed all across the country as well as in many theaters in Branson, MO, such as Tony Roi's Elvis Experience, Legends In Concert, 50's At The Hop and The Liverpool Legends as well as in Pigeon Forge, TN where Cody was the featured entertainer at The Tennessee Shindig for over a year at the young age of 17. Cody also appeared on MTV's "My Super Sweet 16". Slaughter has been performing at special events, corporate functions, and entertainment venues throughout the United States. His uncanny portrayal of Elvis Presley exhibits his amazing love for who he calls, "the greatest entertainer of all time".
"My greatest joy is when I am paying tribute to Elvis and his music and trying to keep his spirit alive with his fans" Cody Slaughter June 2010.
Among some of Cody's most exciting accolades were winning The People's Choice Award during Elvis Week 2008. In July of 2011, at the Las Vegas Elvis Fest, Cody received The Horizon Award for best new Elvis Tribute Artist. The award was given on the same stage where Elvis made history at the Las Vegas Hilton.
Representing Tupelo, Mississippi (Home of Elvis' Birthplace) Cody was named the 'Ultimate Elvis Tribute Artist' by Elvis Presley Enterprises' in Memphis TN during Elvis Tribute Week 2011'.
Cody then took on the roll of Elvis Presley in the national tour of the Tony award winning hit theatrical production 'The Million Dollar Quartet'. Cody has just been nominated as best featured actor in a musical for his role. For his 3rd straight year Cody stared in the Elvis Birthday Tribute Tour honoring Elvis 78th Birthday throughout January of 2013. In February Cody appeared as the musical guest on the Late Show with David Letterman on CBS television at the Ed Sullivan Theater in New York. Both Elvis and Cody were both the same age when they appeared on that very stage.
Cody Slaughter, the 24 year old singing sensation, has the raw talent and passion that Elvis himself exhibited when he first started. Excited fans have crowned Cody the new 'Price of Rock and Roll'. Visit https://www.codyrayslaughter.com/