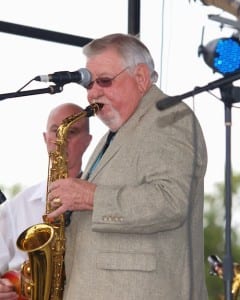 Ace Cannon, saxophone virtuoso, a return to classically executed, quality musicianship. A musician whose records have consistently appeared on Billboard's and Cashbox's charts.
Ace Cannon started his career in Memphis, Tennessee, recording on many of the 1950's hits on SUN RECORDS. Says Sam Phillips, quote: "Ace Cannon is the greatest saxophone player who ever lived, but then he came out of the same stables as Carl Perkins, Elvis, Jerry Lee, Bill Justice, etc."
In 1959 he started with the BILL BLACK COMBO, (which was one of the most popular instrumental groups of their era,) in the U.S. and the Bahamas, where he traveled on all concert dates and played the lead saxophone on all the original recordings. They appeared on the most prominent TV shows of that era, including The Ed Sullivan Show, The Merv Griffin Show, Dick Clark's American Bandstand, and The Buddy Dean Show in Baltimore, MD.
In 1962 Ace recorded the instrumental smash "TUFF". Since that time he has recorded 67 albums and 46 singles. The kind that gets nominated for Grammy Awards such as his recording of "Blue Eyes Crying In The Rain," million selling TV albums such as "Golden Classics," "The Entertainer" and when paired with trumpeter legend Al Hirt resulted in a historic duet TV album of country classics that could be one of the biggest TV albums in history.
In 1986, he performed on The Class of '55 album which brought together Jerry Lee Lewis, Carl Perkins, Johnny Cash and Roy Orbison for a first. This led Ace and Carl Perkins to perform together for the entire year of 1986, playing show dates all over the U.S., and a tour of Norway, Sweden, and Denmark, and the World's Fair in Vancouver, British Columbia.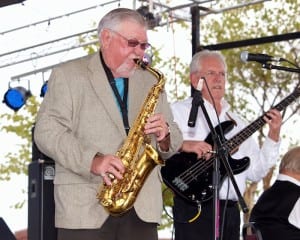 Presently considered one of the top artists for TV sales, Ace Cannon has made numerous appearances on "Nashville Now", "New Country", Charlie Daniel's Jam", and "Fan Fair." He has traveled far and wide appearing at concerts, clubs, fairs and major festivals. Also in 1986, he was asked by Dick Clark to join the All Star Band for the Country Music Academy TV Special.
Ace is considered a musical genius even as far away as the Caribbean, where more than 23,000 people recently showed up for two sold-out shows at The Spectakula Forum and Queen's Park in tiny Port of Spain, Trinidad. This has been the main reason Ace was asked to return on more than a dozen tours in the Caribbean which included the islands of Barbados, Trinidad, Tobago and British Guyana, South America, Hamilton, Bermuda since 1975.
Ace Cannon has appeared as either a Trio or with a full band.