BBQ Contest
The Newport Area Chamber of Commerce hopes that you will join us for the annual Depot Days Festival, scheduled for September 29 and 30 on Front Street.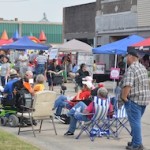 We are currently recruiting teams for the 11th Annual Jackson County's Best Backyard Barbecue Championship Cookoff. Meat is provided and includes a Boston Butt and a rack of Baby Back Ribs!
If you would like to compete in this friendly competition simply complete the entry form (download below) and mail your $40 entry fee to the:
Newport Chamber of Commerce
201 Hazel Street
Newport, AR 72112.
(Team entry fee includes both divisions.)
Download Forms Here: